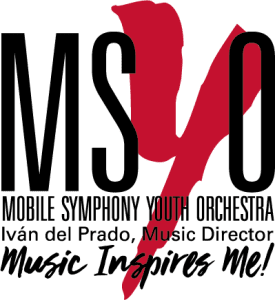 Thank you for your interest in the Mobile Symphony Youth Orchestra. We are happy that you are considering auditioning for this highly skilled, honors orchestra. If you are selected for this ensemble, you will have the opportunity to rehearse and perform the very best of the orchestral repertoire with other young artists from across the Gulf Coast. You will experience music making at a very high level and will interact with some of the World's most renowned and respected guest soloists.
Listed below are the audition materials for the 2021-2022 Mobile Symphony Youth Orchestra. The audition dates are: August 12th, 13th and 14th
Simply click on the instrument that you play. The attached PDF file contains the audition sheet and the Audition Guidelines.
Audition Times
String Auditions: Thursday, August 12th 3:00-6:00 pm
Woodwind Auditions: Friday August 13th, 3:00 – 6:00 pm
Brass and Percussion Auditions: Saturday August 14th, 12:00 – 4:00 pm
Please call Ben Harper at (251) 432-2010 to schedule your audition time.
If you still have questions after you open and carefully read the files listed above, or if you are having problems downloading the PDF file, you may call 251-432-2010, or e-mail Iván del Prado at ivandelprado@mobilesymphony.org.