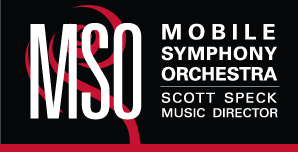 The Mobile Symphony Orchestra enhances lives by achieving the highest standards in live symphonic music and music education. 
As a cultural leader on the Gulf Coast, the Mobile Symphony Orchestra contributes significantly to the quality of life in the Mobile Bay community. By providing outstanding symphonic music and award-winning music education programs, MSO assists the region in attracting international companies and creative workers to the area. In just two decades, MSO has become Mobile's flagship arts organization.
Mobile Symphony Education (Two positions)
Part-time Strings/Preludes Teacher in Schools
Part-time Teacher Artist for Private Lessons in Violin, Viola, Cello or Bass.
Positions
Strings/Preludes teacher in Mobile and the Eastern Shore, AL (Multiple schools, violin, viola, cello – General music for 1st and 2nd grades)
Teacher artist for private lessons at the Larkins Music Center in downtown Mobile
Dates
August 15- May 15 (Summer Strings available during June and July)
Type of Position
Part-time
Job Summary
The Mobile Symphony strings/preludes instructor is responsible for teaching violin, viola, and cello group classes to 2nd-8th grade students, and general music to 1st and 2nd graders  in different schools in the Mobile and Baldwin county areas.
The Mobile Symphony teaching artist is responsible for teaching violin, viola, cello or bass private lessons as an independent contractor. Lesson days and times to be determined.
Minimum Qualifications
– Bachelor's degree in string performance or education, or high level of performance in violin,   viola, cello or bass
– Group or classroom teaching experience
– Pass a background check and demonstrate proper documentation if not a U.S. citizen.
Qualities
The ideal candidate will possess evidence of knowledge of strings and general music curriculum and the ability of implement it. Ability to interact collaboratively and with respect, with students, parents and administration. Excellent oral and written skills.
Responsibilities and Duties
– Planning and preparing lessons and classes
– Strings: Teaching 4-9 groups of string students (at school) or private students (at Larkins)                                        Preludes: Teaching a normal size classroom of first and/or second graders
– Email/call/text string parents (or classroom teachers) to inform them of children's progress, teacher cancellations, performances, etc.
– Twice a year meeting with string faculty and MSO selected staff
– Communicate with Education Director on a regular basis
– Must provide your own transportation
Skills
– Able to make decisions
– Commitment to organization's vision and mission
– Excellent classroom management                                                                                                                                                        – Respectful
– Organized
– Flexible
– Able to work in a team                                                                                                                         – Use stairs multiple times a day
– Able to work in a classroom with children                                                                                     – Able to carry instruments/material to and from the schools
Application Procedure
– Please submit the following, via email, to daniela@mobilesymphony.org
– Letter of interest
– Resumé
– List of at least 3 professional references (with correct e-mail and telephone contact information)
Deadline for Materials
All materials are received on an ongoing basis.