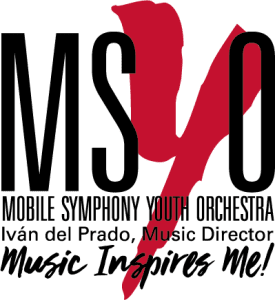 Iván del Prado, Music Director/Conductor
Timothy Beattie, Assistant Conductor
The Mobile Symphony Youth Orchestra is the premier training orchestra for young, accomplished musicians along the Gulf Coast of Alabama, Florida, and Mississippi. The orchestra performs up to seven concerts each year and regularly features world-renowned guest artists such as Midori (violin), Pablo Sáinz Villegas (guitar), Yuri Rozum (piano), and Chee-Yun (violin). The MSYO is the flagship ensemble of the Mobile Symphony's education programs, which have been the recipient of the Midori Orchestra Residencies program and the Bank of America Award for Excellence in Orchestra Education.
The mission of the Mobile Symphony Youth Orchestra is to offer young instrumental musicians throughout the Gulf Coast community an opportunity for growth and development by preparing, studying, and performing various genres of orchestral literature.  The Mobile Symphony Youth Orchestra provides string, brass, woodwind, and percussion students with instruction from highly qualified professional musicians. They experience the orchestral repertoire and improve their skills by working with other young artists, local musicians, and world-renowned guest soloists. Additionally MSYO musicians learn that participation in a group endeavor offers an experience far greater than one might achieve individually.
The MSYO is comprised of middle school, high school, and early collegiate students through the age of 21. Its members reside across the Gulf Coast region. The MSYO rehearses on Sunday afternoons from 2:00 to 5:00 p.m., September through May. The year begins with a weekend retreat in September. The MSYO generally performs 5 or 6 concerts each season at various venues including the historic Saenger Theatre in downtown Mobile. There is a fee for participation and scholarship assistance is available.
Inquiries about auditioning for and membership in the Mobile Symphony Youth Orchestra, as well as general information, should be directed to Iván del Prado at 251-432-2010 or ivandelprado@mobilesymphony.org