Excerpt from the article "Lunch with the Artist: MSO's Taylor Hollyer and an Oakleigh favorite"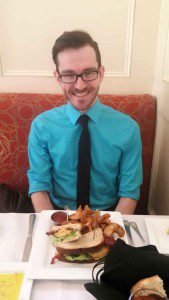 Written by Lawrence Specker and posted on al.com, January 12, 2016.
When a musician voluntarily leaves New York for the Gulf Coast, it's worth finding out what drew him. When a guy who doesn't like tomatoes raves about a BLT, you figure that must be one special sandwich.
Fortunately, Taylor Hollyer of the Mobile Symphony Orchestra was open to questions via a "Lunch with the Artist" session at Kitchen on George, a mainstay of midtown Mobile's Oakleigh neighborhood.
It was a timely gathering, because on Saturday and Sunday, Jan. 16-17, Hollyer will appear with the MSO in his role as principal bass, while a former Juilliard classmate, soprano Julia Bullock, steps into the limelight as a guest artist…..Click HERE to read the full article on al.com.