"The aural sensation was thrilling… Musicians' fingers flew across the strings as Mr. Incredible's son Dash outran villains. Percussion boomed as Buzz, Woody and the gang from "Toy Story 3″ approached a fiery doom…The most important lesson for the children, and maybe for some of the adults as well, was that orchestral music does not equate to stuffy or grown-up, elitist or boring…when an arts writer sees so many children enjoying the power of live music, that's inspiring." —Orlando Sentinel (Orlando Philharmonic Orchestra at Dr. Phillips Center for the Arts)
About PIXAR in Concert:
From the Toy Story trilogy to The Incredibles and UP, Pixar has forever changed filmmaking while giving us some of the most beloved characters in cinematic history. Now, Pixar is coming to you like you've never heard or seen it before: in concert with live symphony orchestra.
This visually stunning, high-definition, multi-media family show features montages of memorable clips from every one of Pixar's 14 films—including Cars, WALL•E, Ratatouille, A Bug's Life, Finding Nemo, Monsters, Inc. and Brave—all accompanied by live symphony orchestra.
These great scores by Randy Newman, Patrick Doyle, Thomas Newman and Michael Giacchino have won 10 Grammys and 3 Academy Awards, and have received 10 Oscar nominations.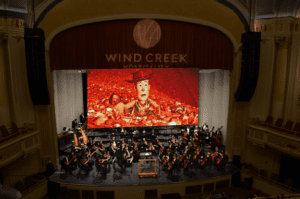 Sponsored by: