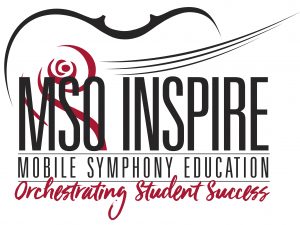 NEW this summer!
MOBILE SYMPHONY THEORY IS FUN
June – July 2021 
Learning is fun! Learning theory is fun too!
The Mobile Symphony presents the theory of music in a step-by-step, straightforward way for anyone who wants to have fun learning the music fundamentals.
This class covers treble clef notation, time values, time signatures, sharps, flats, naturals, note spelling and much more. Learning the basics of theory will prove useful for life and for multiple instruments.
Some students pick up music by ear. Great! They can sit down and start to play what they want just by listening to the melody of their favorite song. For the rest of us, however, having a basic knowledge of the notes on the staff, the location of those notes on our instrument, is the foundation we use to read and build music.
When: June – July 2021
Dates & Times: Thursdays at 9:30 AM or 4:00 PM (one hour long)
Who: Grades 4th – 8th (other ages might be placed in separate classes)
Location: Larkins Music Center
Cost: $50 per month (4 classes); $90 for two months (8 classes)
Minimum enrollment: 6 students
Materials needed: Staff notebook, pencil and eraser
Social distance and safety guidelines will be followed:
Six feet apart seating during class; masks are required; air purifiers will be used.
 
For more information and to register, please contact Daniela Pardo at 251-432-2010 or
Registration:NEW! Theory is Fun