HOW DO YOU BECOME A SEASON MEMBER?
Starting June 15, 2022 you can purchase a membership over the phone, in person, or online. Call 251.432.2010 today! For more information, you may also email boxoffice@mobilesymphony.org. If you would like to purchase in person, you can find our Box Office located at 257 Dauphin Street, Mobile, AL 36602.
You can renew your membership for our 2022-2023 season over the phone at 251.432.2010, in person at 257 Dauphin St., or online.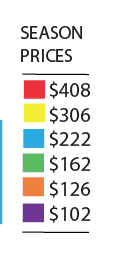 Click here to view seating chart
Savings
Save up to 30% off the price of regular concert tickets. As a member, you will also be able to "bring a friend" and purchase their tickets at 20% off the regular price. (Special Events not included)
Payment Plan Option
Pay off your season ticket purchase in equal, interest-free monthly installments – call 251.432.2010 for this option.
Flexibility
We all know plans change sometimes but with a membership this will not be a problem! Have Saturday tickets but can't make it? Just give us a call by the Friday before the concert and we can exchange your tickets for Sunday. No charge. Easy. Simple.
Seat Security
Hate having to share? Then don't! Your seat is YOURS for all of the concerts included in your membership. Plus, you have first choice to keep or upgrade your seats during renewal season.
Inside Information
Your Members-Only Newsletter ensures you are the first to know all MSO news and perks of membership.
Red Carpet Access
Whenever we have special concerts that are not part of the regular season, you will be the first to know. In addition, you will have the opportunity to buy tickets before they become available to the general public.
Discounts
Area restaurants and bars have partnered with the Mobile Symphony. This means that with your Season Membership Card, you can get exclusive discounts. Make your concert experience even better when you dine before or after a concert! Click the link to see a list of our current merchant partners.
Member Lounge
Enjoy refreshments and drinks during intermission at the member-only lounge!