Jonathan Swensen, cello
The Mobile Symphony Orchestra will kick off the new year with The Fireworks of Jupiter, Saturday, Jan. 22, at 7:30 p.m., and Sunday, Jan. 23, at 2:30 p.m., at Mobile's historic Saenger Theatre. This exciting concert centers on Mozart's most brilliant symphonic work, the Jupiter Symphony. Jonathan Swensen, the 25-year-old Danish cellist and rising classical star, joins the orchestra to perform Tchaikovsky's Rococo Variations.
Swensen, who has built an impressive international following, is an accomplished graduate of the Royal Danish Academy of Music and is currently completing graduate studies at New England Conservatory of Music. Last year, he made a "brash, bold, and successful D.C. debut" at the Kennedy Center.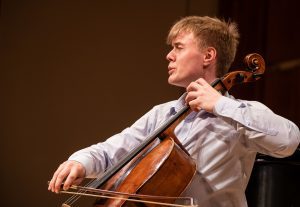 He first fell in love with the cello upon hearing the Elgar Concerto at the age of six, and ultimately made his concerto debut at the age of twenty performing that very piece with Portugal's Orquestra Sinfónica do Porto Casa da Música. Since then, he has appeared with the Orquesta Ciudad de Granada, Venice State Symphony Orchestra, Denmark's Aarhus Symphony Orchestra, and Poland's NFM Leopoldinum Orchestra.
Swensen has captured First Prizes at the 2018 Young Concert Artists International Auditions, 2018 Khachaturian International Cello Competition, and 2019 Windsor International String Competition. In his native Denmark, he was recipient of the Jacob Gades Scholarship in 2019, the Léonie Sonning Talent Prize in 2017, and First Prize at the 2016 Danish String Competition.
Swensen has made debuts with the Copenhagen Philharmonic, Phiharmonia Orchestra at Windsor Castle and Sun Symphony Orchestra in Vietnam, and he recently performed a re-engagement with Denmark's Aarhus Symphony Orchestra.Young Concert Artists presented Jonathan's recital debuts in New York on the Michaels Award Concert at Merkin Concert Hall, and in Washington, DC on the Alexander Kasza-Kasser Concert at the Kennedy Center's Terrace Theater.

To learn more about this up-and-coming artist, visit his web page: Jonathan Swensen.
---
The Fireworks of Jupiter
Saturday, January 22, 2022 | 7:30 p.m.
Sunday, January 23, 2022 |  2:30 p.m
Program:
Mozart | Così fan tutte: Overture
Tchaikovsky | Rococo Variation
Jonathan Swensen, cello
Mozart | Symphony No. 41 (Jupiter)
All concerts are subject to change.
Sponsored by:
Volkert
J.L. Bedsole Foundation
Dick & Betsy Otts