Charlie Albright, pianist
Charlie joins the MSO at the annual Beethoven & Blue Jeans concerts on March 12 & 13!
Program:
José Maurico Nunéz Garcia | Overture to Zemira
Beethoven | Symphony No. 8
Grieg | Piano Concerto
Charlie Albright, piano
Hailed as "among the most gifted musicians of his generation" with a "dazzling natural keyboard affinity" who "made quite an impression" by the Washington Post, American pianist/composer/improviser Charlie Albright has been praised for his "jaw-dropping technique and virtuosity meshed with a distinctive musicality" by The New York Times, and his "extravagance that had showmanship but never felt cheap" with his "ease and smoothness that refuses to airbrush the music, but animates it from within" by the Philadelphia Inquirer.  Recipient of the prestigious Avery Fisher Career Grant and Gilmore Young Artist Award, Albright won the Ruhr Klavier Festival Young Artist Award presented by Marc-André Hamelin (Germany) and the Young Concert Artists International Auditions.  In addition to performing, Albright is sought after as a speaker, masterclass instructor, teacher, and competition judge.  His debut commercial recording, Vivace, has sold thousands of copies worldwide and the first two parts of a 3-part Schubert Series of live, all-Schubert recordings was released in 2017 and 2020. Charlie Albright breaks the "classical" rules of music by connecting with audiences like no other. Through his music, speaking, and unique improvisations that bring music to life, he crosses all genres…and makes it fun.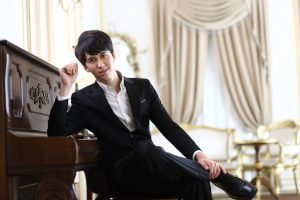 Albright regularly appears at major concert halls, festivals, and with artists of all genres worldwide.  In 2019, he was the guest artist at the Isaac Stern Auditorium main stage of Carnegie Hall with the American Symphony Orchestra and Maestro Leon Botstein, and made his return appearances at the 2019 Bergen International Festival in Norway, where he performed a sold-out solo recital and was given the honor of performing the festival's traditional yearly concert of the Grieg Piano Concerto at Grieg Concert Hall with the Bergen Philharmonic Orchestra.
He is a frequently returning guest artist with such orchestras as the BBC Concert Orchestra (14-concert tour with Maestro Keith Lockhart, chosen as one of the "Best of the BBC 2015"); the Alabama, Baltimore, Boston Pops, Buffalo, California, Chamber Orchestra of Philadelphia, Edmonton (Canada), Des Moines, Fort Smith, Houston, Kymi Sinfonietta (Finland), Lansing, Mobile, National Center for the Performing Arts (Beijing, China), Omaha, Phoenix, Seattle, San Francisco, Victoria (Canada), and West Michigan Symphony Orchestras.  He has performed worldwide, including at the Kennedy Center for the Performing Arts (Washington, D.C.); Symphony Hall (Boston); the Salle Cortot (Paris, France); the Arsht Center for the Performing Arts (Miami); the Kumho Art Hall (Seoul, South Korea); the NCPA (Beijing); and Alice Tully Hall (Mostly Mozart Festival, New York).
Albright regularly collaborates with artists from all genres, including vocalist/conductor Bobby McFerrin and violinist Joshua Bell.  He has collaborated five times with revered cellist Yo-Yo Ma: at the honorary degree ceremony at Harvard University for Senator Ted Kennedy; at a 10th anniversary remembrance of 9/11; at the 60th anniversary of the Universal Declaration of Human Rights with Nobel Laureate Toni Morrison; at the Aspen Institute's Citizen Artistryconference in New York; and with the Silk Road Project.
Albright's compositions and improvisations have been likened to "the great Romantic-era composer-pianists" by Classical Source and have been praised as "thrilling" by the DC Metro Theatre Arts.  The Philadelphia Inquirer raved that he "brought the art of classical-music improvisation to a new level."
A firm believer in education, Albright founded the Charlie Albright Scholarship and Charlie Albright Piano in collaboration with the Centralia College Foundation in his hometown. The Scholarship provides financial aid to music students, and money was raised to purchase and maintain a new 9-foot Steinway Piano for the college's Corbet Hall.
Winner of the Louis Sudler Prize in the Arts and named one of the "15 Most Interesting Seniors," Albright was also named Artist-in-Residence for Harvard University's Leverett House, a position last filled by cellist Yo-Yo Ma. Albright's numerous awards include First Prize in both Solo and Ensemble categories at the 2006 New York National Piano Competition; First Prize and all other awards offered at the 2006 Eastman International Piano Competition; Third Prize at the 2007 Hilton Head International Piano Competition; Semi-Finalist Award and Best Performance of a Work by Liszt in Stage I at the 2008 Sydney International Piano Competition; and the Vendome Virtuoso Prize and the Elizabeth Leonskaya Special Award at the 2009 Vendome Prize International Piano Competition.
Born in Centralia, Washington, Albright began piano lessons at the age of 3. He studied with Nancy Adsit and earned an Associate of Science degree at Centralia College while still in high school. He was the first classical pianist in the Harvard College/New England Conservatory 5-Year AB/MM Joint Program, completing a Bachelor's Degree as an Economics major and Pre-Med student at Harvard, and a Master of Music Degree in Piano Performance at NEC, having studied with Wha-Kyung Byun. He graduated with the prestigious Artist Diploma (A.D.) from The Juilliard School, having studied with Yoheved Kaplinsky.  Albright is an official Steinway Artist. For the latest information, please visit CharlieAlbright.com and Facebook.com/CharlieAlbrightPianist.
All concerts are subject to change.
Sponsored by:
Larkins Foundation
Jim & Karen Atchison
Robert & Joanna Cunningham
Alabama Public Radio