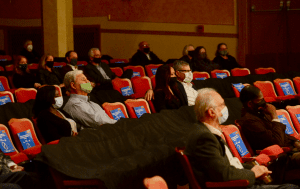 COVID-19 Guidelines as of November 1, 2021:
As COVID-19 continues to be a part of our lives, we will always place the safety of our audience, musicians, staff and volunteers first. We want everyone to enjoy our great music safely, and we will continue to reassess our safety policy based on guidance from local, state and federal health officials.
Regardless of vaccination status, concert attendees are encouraged to wear a face covering from the time you arrive at the Saenger Theatre until you exit the building. Because our concerts are large indoor gatherings, patrons will not have the ability to socially distance from one another. We respectfully ask that you consider the health and welfare of all in attendance.