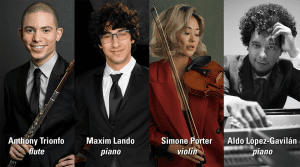 Meet four of our guest artists for the 2023-2024 Season.
Anthony Trionfo, flute.
Known for his "soaring flute … where dance and song become possible again" (The Boston Musical Intelligencer), Anthony Trionfo is a "breezily virtuosic" (The New York Times) musician actively building one of today's most exciting musical careers. He will join the MSO for Beethoven & Blue Jeans, Nov. 18 & 19, 2023, performing Lowell Liebermann's dazzling showcase of a flute concerto.
Anthony began studying the flute at age eleven before appearing as a concerto soloist three years later with the Las Vegas Philharmonic. In 2016, Anthony won first prize in the Young Concert Artists Susan Wadsworth International Auditions and made his YCA Series debuts at New York's Merkin Concert Hall and Washington, DC's Kennedy Center along with pianist Albert Cano Smit in 2018. Anthony has a passion for cultivating new repertoire and gave the world-premieres of drip/spin (2017) and Musica Spolia (2021) by former YCA Composer-in- Residence Katherine Balch. In 2022, the Coretet organization commissioned composer TJ Cole to write a new piece for Anthony involving flute, piano and electronics set to premiere in 2024. Anthony is devoted to creating positive change in society and eliminating barriers for musicians.
Maxim Lando, piano
American pianist Maxim Lando was lauded by Anthony Tommasini in the New York Times as displaying "brilliance and infectious exuberance" combined with "impressive delicacy" and a "wild-eyed danger." He makes his MSO debut performing Tchaikovsky's passionate and beloved Piano Concerto No. 1, Jan. 20 & 21, 2024.
In addition to being named Musical America's New Artist of the Month, Maxim has been awarded the 2021/22 Vendome Grand Prize as well as the 2020 Gilmore Young Artist Award. As winner of the Juilliard 2021 Concerto Competition, Maxim made his Alice Tully Hall debut performing with the Juilliard Orchestra led by Xian Zhang. He appeared with the Orchestra of St. Luke's at Carnegie Hall's Stern Auditorium in a performance of the Liszt Piano Concerto No. 1 as First Prize Winner in the 2022 New York Franz Liszt International Piano Competition.
First Prize Winner of the 2018 Young Concert Artists Susan Wadsworth International Auditions, Maxim held sold-out recital debuts at Carnegie Hall's Zankel Hall and the Kennedy Center's Terrace Theater, which included Liszt's complete Transcendental Etudes and were hailed by The New York Times as a concert "You Won't Want to Miss!" The previous year, Maxim made international headlines performing with Lang Lang, Chick Corea and The Philadelphia Orchestra led by Yannick Nézet-Séguin at Carnegie Hall's 2017 Opening Night Gala. The performance led to an inspirational friendship with Corea, and subsequent duo performances with Lang Lang included concerts with the Pittsburgh, Toronto, Hawaii and Vancouver Symphonies and China NCPA Orchestra. Maxim is an alumnus of the Lang Lang International Music Foundation and studies at The Juilliard School.
Simone Porter, violin
Violinist Simone Porter has been recognized as an emerging artist of impassioned energy, interpretive integrity and vibrant communication. She joins the MSO March 9 & 10, 2024, to perform Mendelssohn's Violin Concerto, a Romantic masterpiece and a guaranteed showstopper. In the past few years, she has debuted with the New York Philharmonic, the Philadelphia Orchestra, the Los Angeles Philharmonic; and with a number of renowned conductors, including Stéphane Denève, Gustavo Dudamel, Yannick Nézet-Séguin, Nicholas McGegan, Ludovic Morlot and Donald Runnicles. Born in 1996, Simone made her professional solo debut at age 10 with the Seattle Symphony and her international debut with the Royal Philharmonic Orchestra in London at age 13. In March 2015, Simone was named a recipient of an Avery Fisher Career Grant.
At the invitation of Esa-Pekka Salonen, Simone performed his work 'Lachen verlernt' ('Laughing Unlearnt'),at the New York Philharmonic's "Foreign Bodies," a multi-sensory celebration of the work of the composer and conductor. She also has performed with the Los Angeles Philharmonic at the Hollywood Bowl with both Nicholas McGegan and Ludovic Morlot, and at Walt Disney Concert Hall with Gustavo Dudamel.
Simone Porter performs on a 1740 Carlo Bergonzi violin made in Cremona, Italy on generous loan from The Master's University, Santa Clarita, California.
Aldo López-Gavilán, piano
"… López-Gavilán is not only a consummate musical artist with an astounding technique; he is also one of the most exuberant musical collaborators I know. When he's onstage, his sheer delight in performing and childlike generosity of spirit remind me of Yo-Yo Ma. It's a wonder to behold, a gift to our musicians, and a joy to have on our stage."
— Scott Speck, music director
A true MSO audience favorite after opening our season in 2019, Cuban pianist and composer Aldo López-Gavilán, returns May 18 & 19, 2024, to perform Gershwin's Rhapsody in Blue in celebration of the composition's 100th anniversary. Praised for his "dazzling technique and rhythmic fire" in the Seattle Times and dubbed a "formidable virtuoso" by The Times (London), López-Gavilán excels in both the classical and jazz worlds as a recitalist, concerto soloist, chamber-music collaborator and performer of his own electrifying jazz compositions. He has appeared in such prestigious concert halls as the Amadeo Roldán (Cuba), Teresa Carreño (Venezuela), Bellas Artes (Mexico), Carnegie Hall and Jordan Hall (U.S.), Royal Festival Hall (U.K.), Nybrokajen 11 (Sweden), The Hall of Music (Russia) and Duc de Lombard et Petit Journal Montparnasse (France), as well as venues in Canada, Santo Domingo, Colombia, Spain, Greece, Hong Kong, Burkina Faso, Germany and Austria.
López-Gavilán was born in Cuba to a family of internationally acclaimed classical musicians, his father a conductor and composer, his mother a concert pianist. At the age of five, he had written his first musical composition. His mother introduced the budding prodigy to the piano at the age of four, and he began formal piano studies at seven. His first international triumph came at the age of eleven when he won a Danny Kaye International Children's Award, organized by UNICEF. He made his professional debut at age twelve with the Matanzas Symphony Orchestra and later went on to perform Prokofiev's Third Piano Concerto with the National Symphonic Orchestra of Cuba. Parallel to his classical abilities, López-Gavilán developed remarkable skills in improvisation. He was invited to perform in the world-famous Havana Jazz Festival with the legendary Chucho Valdés, who called him "simply a genius, a star."