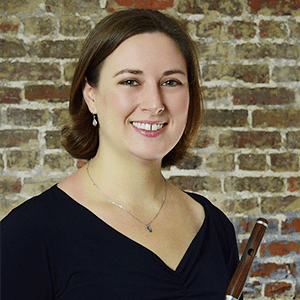 Rachel Nozny began playing flute at age 10 in her father's instrument repair shop. Being part of a very musical family, she was exposed to the lifestyle of a professional musician early on and chose to pursue music as a career. Rachel started playing with the Mobile Symphony in 2015. She also performs with the Pensacola Symphony, Northwest Florida Symphony Orchestra, Symphonia Gulf Coast, Macon Symphony and Albany Symphony.
Rachel holds a Bachelors of Music degree in Flute Performance from Mercer University and a Masters of Music degree in Flute Performance from the University of Kentucky. She studied with flutists Kathy Farmer, Kelly Via, Gordon Cole, and most recently with world-renowned soloist Carol Wincenc. Prior to moving to Alabama, Rachel served as Principal Flutist of the Bismarck-Mandan Symphony Orchestra from 2009-2012, with whom she was a featured soloist in 2012. While at the University of Kentucky she also performed on recordings with Pulitzer Prize winning composer Michael Colgrass and folk-music legend Arlo Guthrie.
Rachel lives in Troy, AL where she is an adjunct instructor with an office next door to her husband, Brian. They have two cats and play way too many video games.