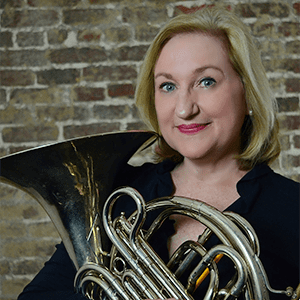 Judy Bartels Sykes first began her musical journey at age 9, studying piano with Mary Jane Scruggs. At 12, she decided to try the horn because her teacher said it was "the most difficult of all the band instruments!". She has been a member of the Mobile Symphony since its beginning in 1998.
She graduated from McGill Toolen Catholic High School where she studied with Wm. Holcombe Pryor and Richard Bradford and was a founding member of the Mobile Contemporary Horn Quartet. Her undergraduate music degree was from The University of Southern Mississippi, studying with Dennis Behm. She has performed with orchestras and opera companies all along the gulf coast.
Judy is currently an audiologist with the US Dept. of Veterans Affairs and is the musician representative to the MSO Board of Directors. She is also very active in fundraising for Woody's Song School for Children on the Autism Spectrum where her younger son is a student. She resides in Mobile with her husband and 2 teenage sons.