The Mobile Symphony is excited to welcome Dr. Iván del Prado to his first season as music director of the Mobile Symphony Youth Orchestra. Recognized as one of the most gifted Cuban-American conductors, he is sure to carry on the MSYO's proud tradition of excellence. Prior to moving to the U.S., he was the principal conductor of the National Symphony Orchestra of Cuba, artistic and music director of the Gran Teatro de La Habana Symphony Orchestra, music director of the Baja California Orchestra and founder and general director of the Chamber Orchestra of Havana.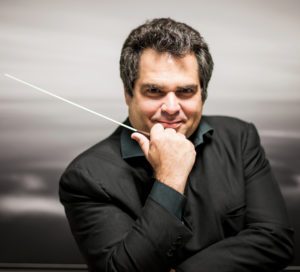 Dr. del Prado has been a guest conductor for numerous orchestras around the world and has been praised by critics for his masterful interpretation of both standard Romantic literature and works from the 20th Century. His versatility spans the genres of symphony, opera and ballet. Opera has given del Prado the opportunity to collaborate with outstanding artists such as Maestro Luigi Alba, José Carreras and Victoria de Los Angeles. Ballet has taken him to conduct the Deutsch Staatsoper Unter den Linden Ballet and the Cuban National Ballet.
Education has been a central focus in Iván del Prado's career, and he was founder of the Cuba National Youth Orchestras. Most recently he was an adjunct professor at the University of Southern Mississippi and artistic director of the Premier Orchestral Institute. He has offered courses in orchestral conducting and musical interpretation in Latin America, Europe and the U.S.
Dr. del Prado was born into a family of musicians in the Cuban city of Holguin. He graduated from the Instituto Superior de Arte (Havana's High Institute of Arts) where he received his violin and viola professional diploma before receiving his bachelor's degree in orchestra conducting summa cum laude. He received his D.M.A at the University of Southern Mississippi.