The Songs, Their Stories, A Symphony
Tickets on sale now!
October 14, 2021 | 7:30 p.m.
Postponed because of the pandemic, Music City Hit-Makers has been rescheduled for Oct. 14, 2021.
The Music City Hit-Makers will join MSO this fall for a thrilling evening of country and symphonic music. These award-winning songwriters, Hillary Lindsey, Cary Barlowe and Brett James, offer acoustic performances of songs they wrote for Nashville's most notable stars – re-imagined for symphony. The Songs, Their Stories, A Symphony is part story telling, part comedy – and mostly, unforgettable acoustic symphonic performances of hit songs.
Sponsored By:
The Shirk Family Foundation
Robert Ervin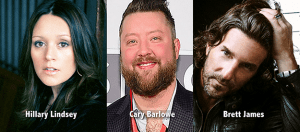 Hillary Lindsey
One of Nashville's most respected songwriters, Hillary Lindsey broke into country music business while still a student at Belmont University's Music Business School. Now with more than 20 No. 1 songs under her belt, Hillary has had songs recorded by Carrie Underwood, Taylor Swift, Faith Hill, Tim McGraw, Gary Allan, Lady A, Sara Evans, Martina McBride, Little Big Town, Rascal Flatts and countless others. Her many awards include Grammy Awards for the songs "Jesus, Take the Wheel" recorded by Carrie Underwood and "Girl Crush" recorded by Little Big Town. With the Mobile Symphony, she'll perform from this list of her hits: "Always Remember Us This Way," Lady Gaga; "American Honey," Lady A; "Blessed," Martina McBride; "Blue Ain't Your Color," Tim McGraw; "Girl Crush," Little Big Town; "Jesus, Take the Wheel," Carrie Underwood; and "Knockin' Boots," Luke Bryan.
Cary Barlowe
Cary Barlowe has made a name for himself in the past decade as one of Nashville's most successful and diverse country writers, with hits by Dustin Lynch, Florida Georgia Line and others. SESAC's 2015 Country Songwriter of the Year, Barlowe is a co-writer of the new Chris Young single "Famous Friends," which went to No. 1 this summer on the country charts. He has written four other No. 1 country songs including "American Honey" for Lady A, "Where It's At" for Dustin Lynch, "Sun Daze" for Florida Georgia Line and "It Don't Hurt Like It Used To" for Billy Currington. Barlowe has also had nine No. 1 songs with contemporary Christian music artist TobyMac. With the MSO, he'll perform from this song list: "Back to Life," Rascal Flatts; "Damn Country Music," Tim McGraw; "Famous Friends," Chris Young & Kane Brown; "It Don't Hurt Like It Used To," Billy Currington; "Raised on Country," Chris Young; "She Won't Remember," Cary Barlowe; and "Where It's At," Dustin Lynch.
Brett James
Grammy Award-winning songwriter and producer Brett James has been one of the most prolific and versatile songwriters in Nashville, having had more than 300 of his songs recorded by major label recording artists. Brett has become a fixture on the Billboard Country chart with more than 25 No. 1 songs and scores of Top 20 singles to his credit. After co-writing some of country music's most iconic hits, including Carrie Underwood's "Jesus, Take the Wheel," Dierks Bentley's "I Hold On" and Kenny Chesney's "When the Sun Goes Down," James released his own EP, I Am Now, in 2020. In Mobile, he'll perform from this song list: "Brass Bed," Josh Gracin; "I Hold On," Dierks Bentley; "On My Way to You," Cody Johnson; "Out Last Night," Kenny Chesney; "Something in the Water," Carrie Underwood; "The Truth," Jason Aldean; "You Save Me," Kenny Chesney; and "When the Sun Goes Down," Kenny Chesney.
"I have enjoyed conducting this show elsewhere and I'm happy to bring it to Mobile," Scott Speck, MSO Music Director, says. "The concert features some of today's most recognizable Nashville hits, sung and performed by the very artists who composed them! This very entertaining and moving evening will be an unforgettable show."
https://www.musiccityhitmakers.com
All concerts are subject to change.
Buy Tickets