Our Gala Concert with Yo-Yo Ma will be – by far – the most high-profile and highly anticipated concert along the Gulf Coast for 2024. Yo-Yo Ma is that rare performer whose passions reach far beyond the concert stage. He lives his life as a continuous exploration of new ideas, collaboration with musicians of all genres to bring people together.
Yo-Yo Ma is very selective about where he plays. He seeks connections with communities, and we are lucky he wants to come to Mobile.
"There's a reason why Yo-Yo Ma is a household name. He is one of the greatest artistic spirits of our generation. Nobody emerges unchanged from an encounter with Yo-Yo or his musicmaking," our Music Director Scott Speck explains. "When he first joined us in 2005, it was a milestone not just for the Symphony, but for the city. Now we have another milestone – to be one of the very few places in the world (and the only city our size) to welcome him three times."
"Passion is one great force that unleashes creativity, because if you're passionate about something then you're more willing to take risks," Yo-Yo Ma explains. His multi-faceted career is testament to his enduring belief in culture's power to generate trust and understanding. Whether performing new or familiar works from the cello repertoire, collaborating with communities and institutions to explore culture's role in society, or engaging unexpected musical forms, Yo-Yo strives to foster connections that stimulate the imagination and reinforce our humanity.
"Yo-Yo Ma playing the Elgar Cello Concerto with the MSO will be one of the Gulf Coast's most important musical events of the year. Don't miss your chance to be a part of this unforgettable occasion," says Scott Speck. "Can't wait to see you there!"
Program:
Pyotr Ilyich Tchaikovsky | Symphony No. 5 in E Minor, Opus 64
Edward Elgar | Cello Concerto in E Minor, Opus 85
Tickets go on sale to new subscribers June 14, 2023.
Tickets go on sale to the general public September 5, 2023 at 9:00 a.m. Central Time.
Ticket prices: $65, $99, $149, $173, $199 and $249.
Seat Map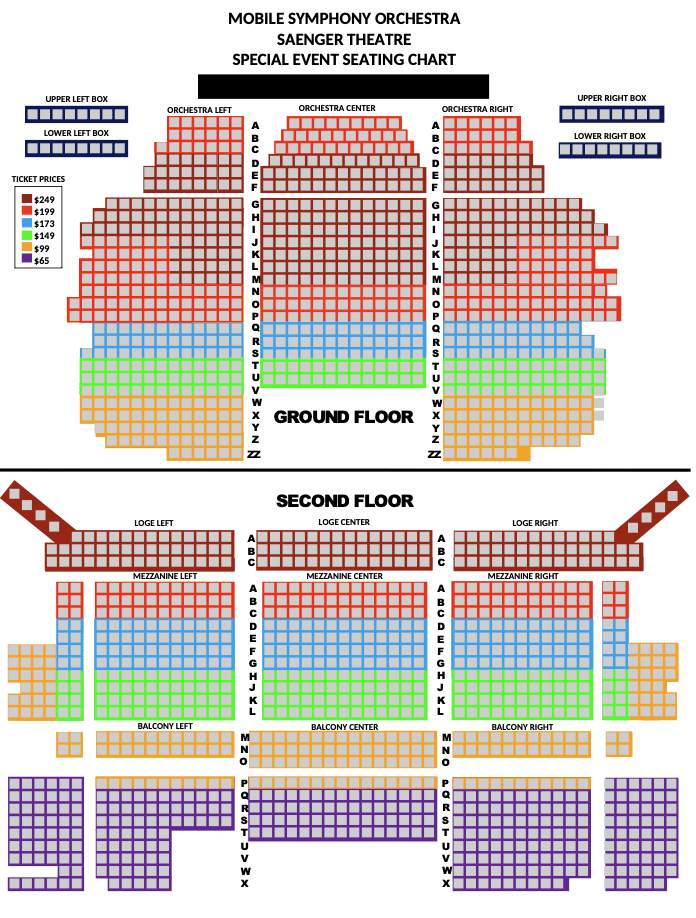 Buy Tickets