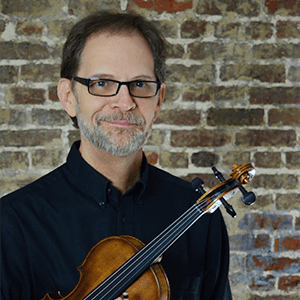 Tom Morley started playing violin at the age of seven. Inspired by his high school orchestra director, he pursued a career as a teacher. Eventually, Tom moved to Nashville. He traveled and performed with bands around the country as a fiddler, playing on numerous top ten country recordings and earning a gold record along the way.
Tom holds a degree in Music Education from Ball State University and has been a member of Mobile Symphony since its inception in the late 1990s. In addition, he has performed with the Mobile Opera Orchestra, Pensacola Symphony, Pensacola Opera, Gulf Coast Symphony, Gulf Coast Opera, Sinfonia Gulf Coast, Northwest Florida Symphony, and Nashville Symphony. He is a member of the Celtic/World music band, Mithril, and the Silverwood Quartet.
Tom teaches Irish fiddle at camps and workshops around the U.S., and has written and published fiddle method books. His wife, Fran, and his two cats, Finn and Zoey, happily support and put up with his full-time violin and fiddle passion!