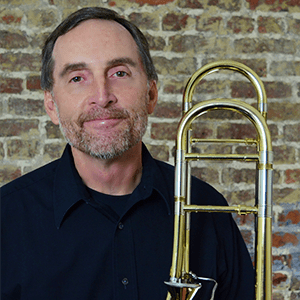 A professional musician for over 35 years, Keith Bohnet is presently a trombonist with Mobile Symphony, performing with them since 1988 when the orchestra was then known as the Port City Symphony. At age 10, he began his music career (as did his father before him) on the baritone horn, but later found that trombone offered more opportunities for performance.
Keith studied with several outstanding music teachers throughout his life. As a youngster, singing was a part of school and church activities, developing basic ear training and harmonic skills. His first baritone teacher came to Keith's house to give him lessons for the princely sum of $2 an hour – another instance where early childhood music education makes a difference! Keith later attended University of the Pacific for a Bachelor of Music Education degree and Texas Tech University for a Master of Music in Trombone Performance.
Keith has blended together a life of family, music, performance and play. He has performed with symphonies in Mobile, Biloxi, Pensacola, Lubbock, Roswell and Stockton. He is presently Music Events Coordinator at South Alabama, teaches Introduction to Music at USA, and manages to officiate high school sports, kayak, ski and snowboard in his spare time.