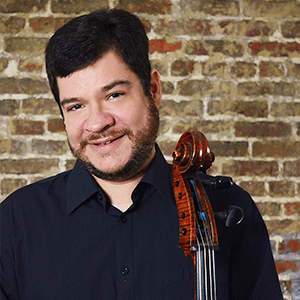 Juan José Gutiérrez was born in San Jose, Costa Rica. At the age of seven, an uncle gave Juan a cassette tape about the lives of the great composers and he became fascinated with them. The following year, he attended a birthday party at a school near his house that had a piano. Juan surprised his family and friends when he was able to play melodies by Chopin and Brahms that he had only learned by ear. He started studying music that year at the children's program of the University of Costa Rica School of Music. Juan chose the cello as his instrument.
Juan received a Master of Music degree in Cello performance at L.S.U. School of Music in 2002 and a Doctor of Music degree from Florida State University College of Music in 2006.
In 2007, Juan joined the Mobile Symphony as a cellist and strings instructor. He also plays with the Pensacola Symphony and the Northwest Florida Symphony.
Juan lives in Mobile with his wife, Gina, and son, Francisco. In the very rare moments when he is not making music, Juan loves reading, watching movies and documentaries.