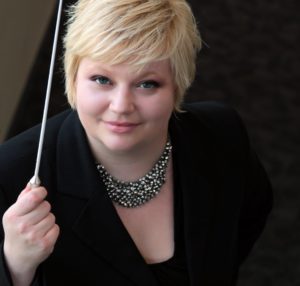 Dominique Røyem is the Music Director of the Mobile Symphony Youth Orchestra and the Fort Bend Symphony Orchestra. An active guest conductor, she has worked with ensembles such as the Ukrainian State Orchestra, Plevin Philharmonic, Galveston Symphony, Moores Opera Center, Sugarland Opera, HBU Opera Theatre, and the Houston Civic Orchestra. She was the Resident Conductor for Bayou City Concert Musicals, and Music Director for Houston Grand Opera's Opera to Go!  during the 12-13 and 13-14 seasons, and the Conducting Fellow for the Allentown Symphony Orchestra's 2012-2013 season.  She serves on the National Board of the Conductors Guild.
Dominique is known for her creative programming and connection to communities. During her tenure, the Fort Bend Symphony Orchestra began a unique programming scheme where cultural conversations of value are created through programming and outreach into the Fort Bend community.  The 2018-2019 season is entitled "Finding Home," and will feature works that discuss the creation of home and community, particularly poignant to the Fort Bend area after the devastation of hurricane Harvey.
In addition to her full schedule at the Fort Bend Symphony Orchestra and the Mobile Symphony Youth Orchestra, Dominique is an advocate for the entrepreneurship in the arts community. She is graduate and peer facilitator of Artist INC, a business entrepreneurship program for artists run through the Mid-America Arts Alliance. She helps other artists to strengthen their business practices and teaches social media engagement and web design.
She has a Doctorate in Orchestral Conducting from the University of Houston Moores School of Music. Her dissertation, entitled "Generic Integration and Its Expressive Potential in the Music of Kurt Weill and Richard Rodgers," uses semiotic and genre theory to illuminate the similarities between opera and musical theatre in the 1940's and 1950's. Dominique currently lectures at the Women's Institute of Houston.
Her upcoming engagements can be found on www.dominiqueroyem.com, or on Twitter: @dominiqueroyem, Instagram: @dominiqueroyem, and Facebook: Dominique Røyem.